Anyone else a fan of Mrs. Laura Ingalls Wilder's books?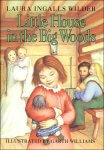 We are finishing the fifth book right now. Both Bailey and Kennedy have thoroughly enjoyed hearing of once-upon-a-time. As with any book, we have enjoyed lots of wonderful conversation and learning opportunities.
I recently found this site: Wilder Homestead, Boyhood Home of Almonzo and found it quite interesting. I just thought I might share it this morning.
If you have never read these books, you are missing out! You can learn about them at www.littlehousebooks.com.
Oh yes, and for those of you that have wee little ones, it is not too early to begin reading chapter books to your children! I started reading chapter books to Bailey when she was three and wondered if she would be interested. I was pleasantly surprised. Kennedy is two now and every day she asks, "Mommy read Prairie House?" :0)
posted by Mrs. Klause